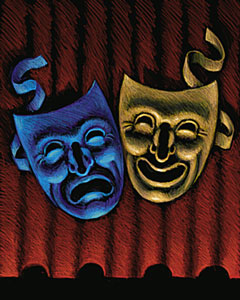 "All the world is a stage", William Shakespeare
The Arcadia Guild was established in 1998 to assist with the general operations of the Arcadia.  As volunteers, The Guild act as Ambassadors for the theater, the Arcadia Performing Arts Board of Directors, and the Eureka Coal Heritage Foundation.
Responsibilities of Guild members include: office support, collecting tickets, ushering and assisting patrons, merchandise and concession sales, and help with entertainers as needed.
The Guild fundraises to assist the Arcadia Theater, since income from sponsors and ticket sales may not cover the operating costs to present a show.  The Guild's largest fundraiser is the Masquerade Jewelry Sale, annually held during the Miners' Day Festival on Father's Day weekend each June.
Money raised by the Guild has helped benefit the Arcadia in many ways.  Over $100,000 has been donated to make stage floor renovations, outside showcases, blinds for the restrooms, and funding for overhead expenses.  In addition, The Guild has provided for stage lighting, upgrades to the security system, and storage closets.
We can always use some helping hands.  COME JOIN US AND BE A VOLUNTEER!
Guild duties:  collecting tickets, ushering, assisting patrons and entertainers, and fundraising.  Volunteer for one or several duties based on your time!
Attend a monthly meeting – First Wednesday of every month, held at the Arcadia Theater at 7:00 pm.  To sign up call Linda Rhodes, Co-President at 814-269-2198, or Co-President, Pat Meyers at 814-270-6247.
Arcadia Theater Guild Officers: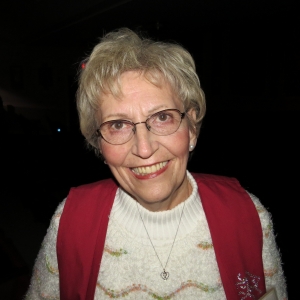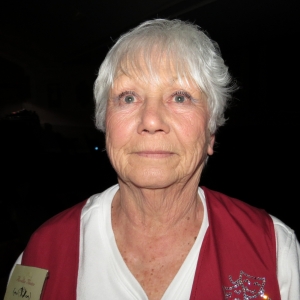 Linda Rhodes                                                                       Pat Meyers
Linda Rhodes, Co-President
Pat Meyers, Co-President
Donna Venzon, Vice President
Lois Ott, Treasurer
Mary Brunberg, Secretary
Guild Members:
Mary Brunberg
Sharon Custer
Gayle Docherty
Donna Dumm
Tracey Esbenshade
Brenda Fockler
Patti Foltz
Patty Hasse
Sharon Hoffer
Dave Hunter
Rita King
Val Korzi
Kitty Kurchak
Jeanne Kuzmyak
Pat Meyers
Millie Molnar
Sandy Nicoletti
Lois Ott
Susan Parks
Bernie Punako
Linda Rhodes
Teresa Roth
Tracey Seganos
Carol Smith
Linda Sottile
Donna Venzon
Sue Wissinger
JoAnn Yantus