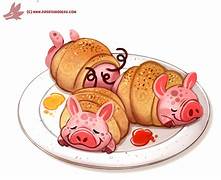 Pig in a Blanket Day
Date When Celebrated: Always April 24
Pig in a Blanket Day is a day to eat a sausage wrapped in a pancake. Why? Because that's what "Pig in a Blanket" is.
Somebody, somewhere decided that this was a very special treat for them. So, they created a special day to celebrate this culinary delight. Aren't you glad that they did?
How does one go about celebrating Pig in a Blanket Day? Cook up some sausage. Make some pancakes. Wrap the sausage inside of the pancake. Add maple syrup. Then, chow down.
---
Origin of "Pig in a Blanket Day":
Our research did not find the creator or the origin of this day. Restaurants sometimes hold a "Pig in a Blanket" special. The roots of this day may have come from a restaurant breakfast promotion.
OBVIOUSLY, THIS SOURCE IS NOT FROM WESTERN PA!  THIS IS A WEAK VERSION OF A "PIG IN THE BLANKET"!  Right, younz guys?
http://arcadiawindber.com/wp-content/uploads/2018/04/Pigs-in-a-Blanket-Clip-Art.jpg
180
221
Windber Arcadia
Windber Arcadia
2018-04-24 14:23:24
2018-04-24 14:23:24
You'll never guess what today is.....