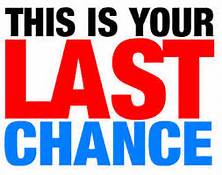 Our next show "Ornament" – the music of the Trans Siberian Orchestra is close to selling out.  As of this morning, we have 9 floor seats  and 3 balcony seats left.  If you are interested in this show, please call today and don't miss out.  All seats are single seats, but you will be so engrossed in the show you won't notice that you are sitting solo.  Just get together with some friends, go grab some dinner at one of our great restaurants in Windber and then head to the show!
Call today – 814-467-9070 or order online by clicking on the BUY TICKETS tab.  Choose the seat you want from the seating chart and then pay with a debit/credit card.  It's that easy.  Don't miss out on this wonderful Christmas show!
http://arcadiawindber.com/wp-content/uploads/2017/11/last-chance-clip-art.jpg
175
222
Windber Arcadia
Windber Arcadia
2017-11-13 15:17:57
2017-11-13 15:17:57
You are running out of time!