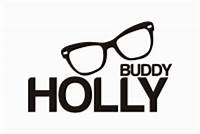 That day is Saturday, May 19, 2018, at 7:30 pm.  The Arcadia Theater is proud to present "Rave On" – The Music of Buddy Holly, Roy Orbison, and other Great Legends. 
Ticket sales are going very well.  We only have 131 seats on the floor but plenty of seats in the balcony.
Now that may seem like a lot.  However, we have just begun to advertise the show in the newspapers – Somerset Daily American and Tribune-Democrat.  Radio (Cool 101.7) and television commercials (WJAC TV) are forthcoming.  This means the phone will start ringing like CRAZY!
Don't delay, order your tickets today!  This show will SELL OUT.
"Everyday" takes us one step closer to May 19th.
Call the Box Office, Monday through Friday, from 10 am to 4 pm – 814-467-9070.  Or order tickets online by clicking on the BUY TICKETS tab.  Review the seating chart, pick your seats, pay with a debit/credit card and then print out your confirmation sheet.
http://arcadiawindber.com/wp-content/uploads/2018/05/Buddy-Holly-Glasses.jpg
134
200
Windber Arcadia
Windber Arcadia
2018-05-01 16:14:56
2018-05-01 16:19:20
"That Will Be The Day"