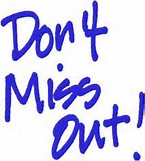 It is Thursday, July 28, 2017 and we are getting closer and closer to our next show ABBAMANIA on Saturday, July 29 at 7:30 pm.  There is good news, we still have 33 balcony seats available and 16 floor seats.  That means, as of this post we only have 49 seats left!
Don't wait, call us today and get your seats – 814-467-9070.  The box office is open today until 4pm and tomorrow from 10 am to 4 pm.  Or, you can order online by clicking on the BUY TICKETS Tab.
You don't want to miss this show.  This is really going to be one of the best shows this season!!!!!
http://arcadiawindber.com/wp-content/uploads/2017/07/Dont-Miss-Out-Clipart.jpg
161
145
Windber Arcadia
Windber Arcadia
2017-07-27 15:16:50
2017-07-27 15:25:27
Don't Wait, It could be too late!