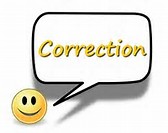 Please note my apologies to MediaXchange of Windber, PA not MediaXpress as I posted originally (the post has been corrected).  I spoke to them this morning regarding my "goof" and we also discussed the final cost for the DVDs.  They will be available for $6.00 per video.  Once again, MediaXchange is not profiting on this project.  This is their cost to produce the videos.
If you cannot attend and wish to purchase a DVD, call them directly at 814-619-2115.  This would make a great gift for someone from our area who has moved away!
http://arcadiawindber.com/wp-content/uploads/2017/07/correction.jpg
133
168
Windber Arcadia
Windber Arcadia
2017-07-14 14:42:20
2017-07-14 16:30:48
Attention all 1977 Johnstown Flood Movie Attendees!